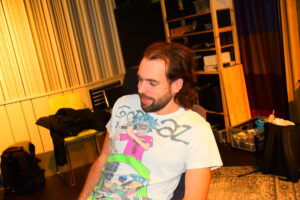 ---
Jacob Westberg is an MA student at the Royal College of Music in Stockholm, where he is currently studying music production for video games. Professionally he has created music for several titles, among which two have been awarded with "Best Audio" and one has been awarded "Game of the Year". He is currently researching game design and its relationship with music production, with the purpose of bridging the gap between these two fields and help improving the potential of musical compositions in video games.
Born with a hearing impairment, he was thrown into a profound fascination for music at the age of five, after he underwent surgeries and got to perceive the full sonic experience. A few years later he started studying instruments like the cello and piano, while also being immersed in the video game world's of Hyrule and Donkey Kong Island which captured his imagination.
When he got his hands on a guitar at the age of 14 and started learning the riffs of ages, Jacob went from being "slightly interested" to "completely obsessed" with making music. From that moment, there was not single doubt in his mind that he wanted to become a composer for games, inspired by the larger-than-life soundtrack of the Halo-series.
After finishing high school Jacob decided to study a year of musicology at Uppsala University in Sweden, and received a formal introduction to music history, ethnology and theory. However, the faculty opposed his interest and ideas for video game music, calling the medium "soul-less", which led him leave the university after only one year.
Instead, looking for a more encouraging support he took a seat at the Blekinge Institute of Technology where he finished a bachelor's degree in music & audio production. At the institute he was able to study together with the many game designers and programmers that he would later release games with.
Wrapping up his studies at the institute, he decided to go into the field of music production professionally, just like he had envisioned that moment almost ten years earlier. This is when he first started Mount West and has since worked with a multitude of projects, both with independent and major companies within the music and games industries. These projects has resulted in over 70 official music releases and three released game titles, with multiple awards for "Best Audio" and "Game of the Year". Still Jacob knows that even greater things are to come and he is doing his best to not get caught up in the good memories of the past nor in the exciting potential of the future.